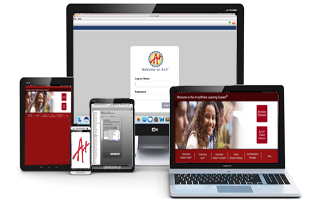 ---
The Anywhere Learning System is the most comprehensive online curriculum available to families today. Over 150 full year curriculum courses are available for grades 1-12, including many high school electives, college readiness courses and GED/TASC/HiSET preparation courses.
The Anywhere Learning System is available anytime, anywhere an internet connection is available. Unlike other online courses. the ALS system offers full semester or full year courses. The courses are self-paced and most lessons are automatically graded. ALS has incorporated every state's learning standards in order to help students master state requirements and testing through their own learning paths.
The Anywhere Learning System is the ONLY online learning system that offers the option to exempt lessons based on a pretest. This option saves time if your student is starting our courses mid-year or is above or below grade level.
ALS is available through HomeLearningInstitute.com for families that are looking for an online homeschool curriculum or school students that need extra help at home during the school year or over the summer. HomeLearningInstitute.com offers affordable monthly, semester or yearly payment options.
---